Custom Luxury Bathroom Must Haves
Jul 5th, 2022
With selfcare and relaxation top of mind these days, creating a luxury bathroom in your new custom home build is that perfect place to unwind and de-stress. With some planning and the use of high-end materials and finishes, you can create a bathroom that is luxurious, rejuvenating, and indulgent.
There are a variety of design styles and technology options to consider when designing your luxury bathroom, such as free-standing tubs, water closets, double sink vanities, heated floors and so much more. To help you start, we have included in this blog, some high-end finishes you should consider when planning your next bathroom build or renovation.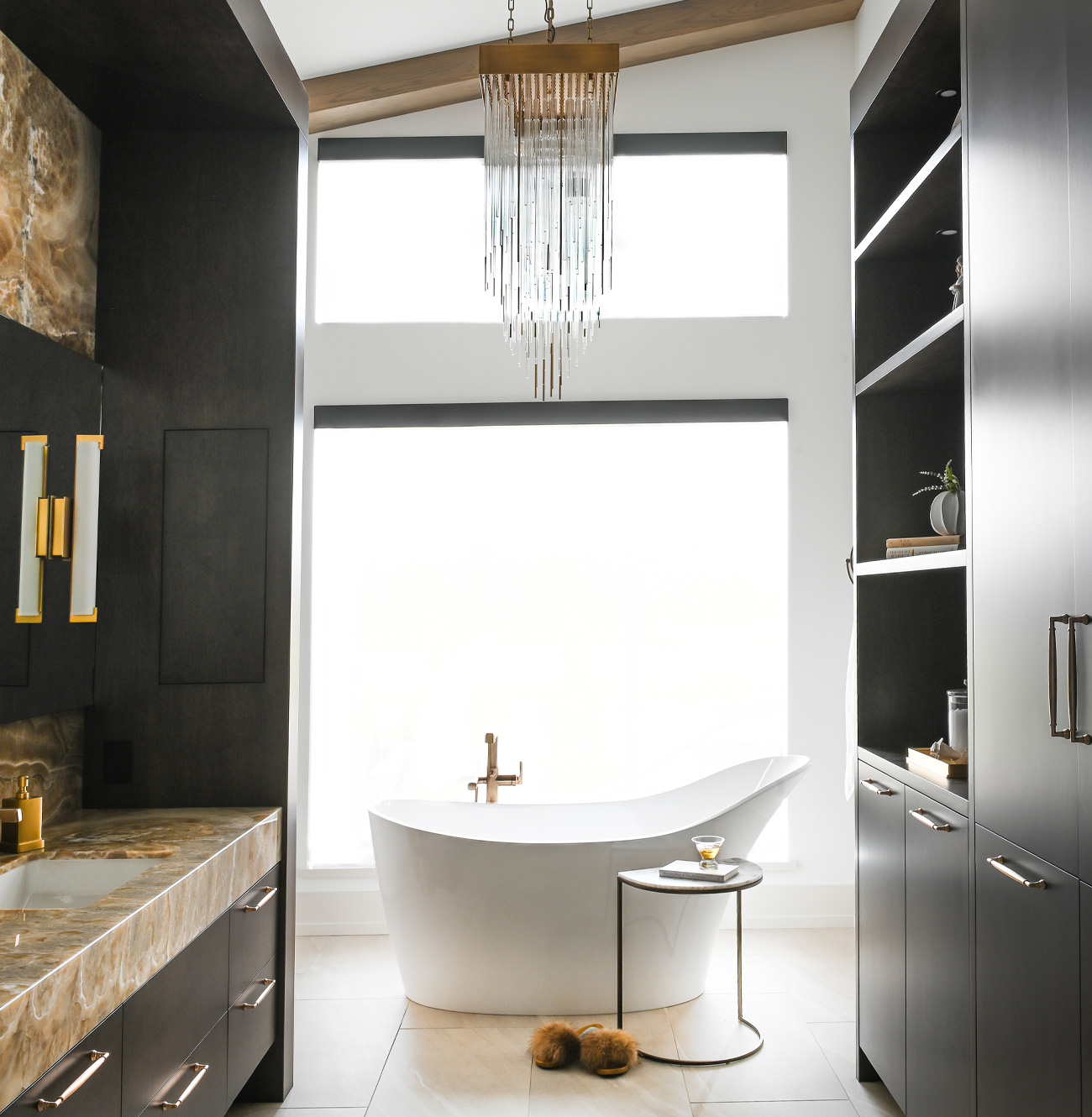 Multi- Shower Options
Creating a spa- style shower has become a must- have for high end master bathrooms. If you want to have luxurious touches throughout your home, investing in your bathroom is a smart choice as you can enjoy and use it every day. To have an authentic spa experience you should consider installing a high-end shower system. A multi-head shower is one of the easiest ways to add luxury to your custom home. There are several brands available, so it is important that you choose one that will match both your needs and your aesthetic. These showers offer so many options that will provide a luxurious bathing experience such as, rain shower, handheld, massage and built-in temperature control. While shower systems are more costly initially, they are energy efficient and reduce waste, so you will save money down the road. Investing in a high-end shower is a must have for your luxury custom bathroom.
Stone Options
Investing in high-end stone will take your bathroom to the next level. Natural stone, symbolizes exclusivity and style and because of its unique bold look it is extremely elegant. What makes natural stone aesthetically unique is the fact that every quarry in the world will have slightly different form of stone, and each slab will have a slightly different veining and colouring, making your bathroom exclusive and truly one of a kind. Natural stone is a great choice for creating a relaxing oasis within your home and pairing it with radiant in floor heating will make it much more comfortable. There are several great natural stone and manufactured options that will work well in a bathroom such as, Italian marble, granite, onyx and quartz. These stone choices are great options when considering and selecting countertops and flooring choices. There are many style options in all the stone choices, and you can choose the right fit for your custom luxury bathroom based on your aesthetic and the amount of maintenance you will want to do. Be mindful that choosing some of these as flooring options could result in slippery floors and it would be wise to invest in some non-slip mats or honed stone.
Statement Lighting
A luxury bathroom is all about the ambiance. You will want to highlight all the wonderful features in your bathroom design with great lighting. Whether you are starting your day with an energizing shower or taking a relaxing soak in the evening you will want your lighting to set the mood. Lighting is dependent on a few factors, and is based on space, function, and accents. You can never go wrong with statement pieces to highlight your bathrooms best features. When planned out correctly, strategically placed lighting can transform your luxurious bathroom into a spa like retreat that is still very functional.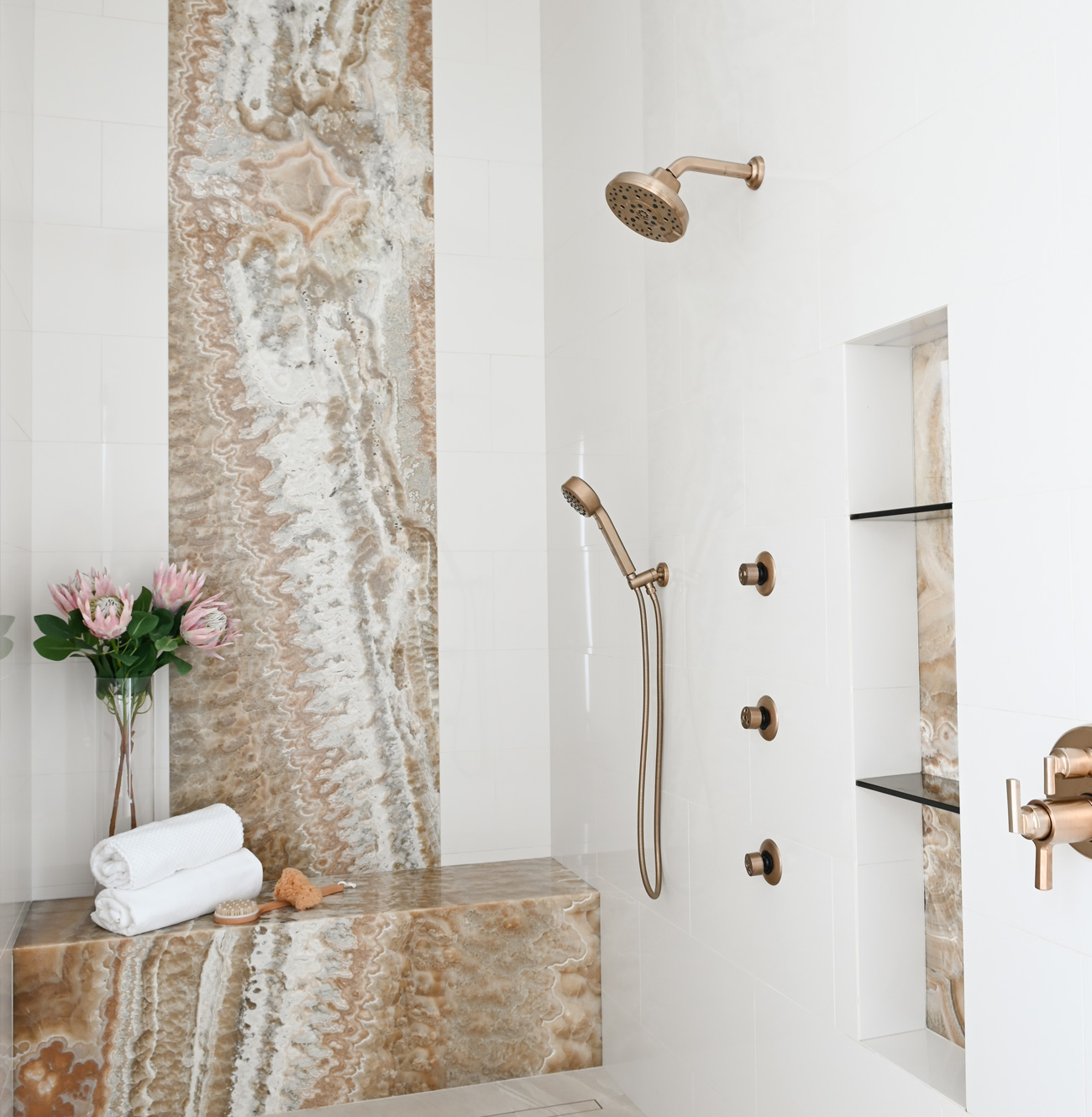 Statement Design
Finally, one of the best elements you can include in your luxury bathroom space, is fun design elements. This can include great artwork, unique mirrors, intricate tile choices, and high-end wallpaper. The bathroom may be small in square footage compared to other rooms in your home, but it is a great space in incorporate touches of luxury.
Learn more of luxury custom homes built by Tycon Building Solutions on our website. Check us out on Instagram, Facebook and LinkedIn to see our latest completed projects.