The Art of Luxury: Building a Luxury Custom Home
Sep 1st, 2023
In the realm of luxury living, custom homes reign supreme. Each custom home is a work of art, meticulously designed and crafted to fulfill the unique vision and desires of its owner. Join us as we share the captivating world of custom home building in Langley, where dreams are transformed into reality, and every detail reflects the epitome of luxury.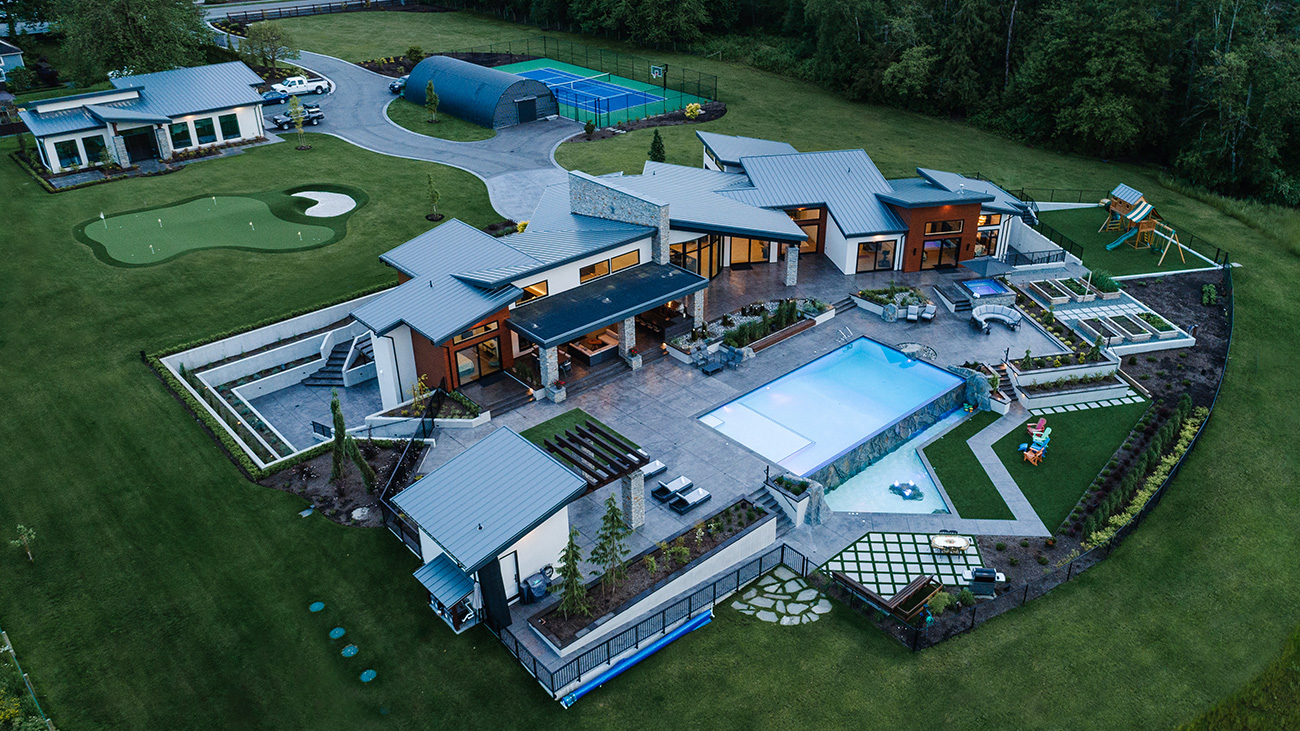 Personalized Perfection:
At the heart of custom home building lies the concept of personalization. Unlike prebuilt houses, custom homes offer a blank canvas for homeowners to express their individuality. From architectural design to interior finishes, every element is tailored to our client's preferences and lifestyles. We explore the process of working closely with architects and designers to translate visions into stunning reality, ensuring every inch of the home reflects the owner's taste and character.
Exquisite Craftmanship:
As a Langley Custom Home Builder, quality craftsmanship is of the utmost importance. The artistry and craftsmanship involved in the construction of luxury custom homes are unparalleled. From the moment the ground is broken to the final touches, skilled artisans and craftsmen meticulously bring the design to life. We highlight the various trades involved, such as master carpenters, stonemasons and ironworkers who transform raw materials into architectural marvels. We also explore the use of high-end materials and cutting-edge techniques that elevate the quality and beauty of custom homes.
Architectural Brilliance:
As a custom home builder in Langley and throughout the Lower Mainland, we collaborate with renowned architects to create architectural masterpieces that seamlessly blend elegance, functionality and innovation. Our clients will delve into the world of architectural design, exploring different styles, such as contemporary, classical or modernist and they shape the overall aesthetic of a luxury custom home. Some notable architectural features in our Luxury Homes include grand entrances, soaring ceilings and captivating exteriors that leave a lasting impression.
Luxurious Amenities:
Our luxury custom homes built in Langley are synonymous with indulgence and comfort. Some of the luxurious amenities that are often integrated into these homes include spa-like bathrooms, state-of-the-art home theatres, wine cellars, private gyms and expansive outdoor living spaces. These amenities elevate the living experience, creating spaces that cater to the homeowners' desires and provide an oasis of relaxation and entertainment.
Technology and Innovation:
Custom home builders embrace the latest advancements in technology to enhance the living experience. We explore smart home automation systems, integrated security features, energy-efficient solutions and eco-friendly designs that ensure sustainability without compromising luxury. We also delve into the integration of cutting-edge entertainment systems, climate control and advanced lighting solutions that add convenience and sophistication to these extraordinary residences.
Legacy and Value:
Beyond the immediate gratification of luxury living, custom homes are often seen as long-term investments. We love to share how custom homes preserve and appreciate value, becoming legacies for future generations. We explore the factors that contribute to their enduring worth, including location, architectural integrity, high-quality materials and exceptional craftsmanship.
Working with Tycon Building Solutions:
Building a luxury custom home is an art form, where dreams and aspirations are brought to life through meticulous craftsmanship and personalization. From architectural brilliance to luxurious amenities and innovative technology, these extraordinary residences embody the epitome of luxury living.
At Tycon Building Solutions, we are committed to quality craftsmanship. We work with the best trades, designers, and architects within the home building industry. We value transparency and open communication through every step of the design and building process. We want your custom home build to be a rewarding and exciting experience.
Learn More about Tycon Building Solutions' commitment to a first-class finish on our website or follow us on our social channels on Facebook, Instagram, LinkedIn, TikTok and Pinterest.
Have Questions? Contact us, we would love to partner with you to build your dream home.